I took this awesome trip to London and France with my cousins from Trinidad and Tobago. We went there to attend a family members wedding. It was the most beautiful wedding I've ever attended.
PICCADILLY & OXFORD CIRCUS
Our first day out we went to Piccadilly and Oxford Circus. If you love shopping this will be Heaven to you. Piccadilly and Oxford are within walking distance of each other. Here you can sit by the Statue of Eros (a popular meeting point) and watch some break dancers or take some photos in front of the iconic advertising board.
WESTMINSTER
Big Ben, London Eye
It's been said that every tax payer in the city of London, owns a piece of Big Ben, but you may want to get a second opinion on that. As soon as we came off the tube Parliament was the first thing that caught our eye. You just have to see it in person. It looks like a building made of gold. Photos just don't do justice. If you don't have as much time as we did, to tour the area, your best bet would be to take a Thames River Cruise. Once you pass the London Eye there is a ticket booth with many options on what cruise would best fit your needs. They have everything from a tea to dinner cruise, but whichever you choose do not take the "London Eye Cruise." It is the most reasonable when it comes to price, but you will get a better experience on a different boat. Afterwards we went to visit the infamous Buckingham Palace.
MANCHESTER-PICCADILLY
Old Trafford
Soccer, as us Americans call it isn't really my thing, but for my cousin it was the only thing he cared about visiting in England. Manchester is about a 2 hour train ride from London. If you are traveling with a group of 3 or more you can get discounted rates at www.virgintrains.com. We got round trip tickets and our fare included a bus ride to the stadium.
PARIS, FRANCE
Eiffel Tower/Notre Dame
Notre Dame oh how I thought I would never meet you. We attended a Monday morning Mass at the cathedral. Mass times are Sundays at 8am and 6pm and Monday through Saturday at 8am and 9am. The only time Mass is held in English is Sunday at 6pm. I promise you would still fully enjoy it in French. I've also been to Mass held in Spanish. After Mass was over my cousins and I decided to take a tour (€8.50) to the top of the cathedral to get a view of the city and take photos of the gargoyles. We walked about 5 flights of spiral stairs to a gift shop where we bought our tickets. Then we walked about another 5 flights of spiral stairs to the very top. Now let me put this lightly. For someone who is clautrophobic I probably shouldn't have taken this tour. The higher we went the smaller the space got and with claustrophobia mixed with anxiety I was completely out of breath by the time we got to the top. So that's just a warning.
The view was worth it, even though part of the view was interrupted by a large rope and fence I got some pretty awesome photos of the gargoyles. After that I was ready to leave. I told our tour guide I didn't want to go any higher and yes there are alot more stairs to go. I just wanted to get out of there so she un-tied the rope and I gave her a huge hug. I've never been so relieved in my life. As soon as I got to the ground level I started singing "God Is Soo Good."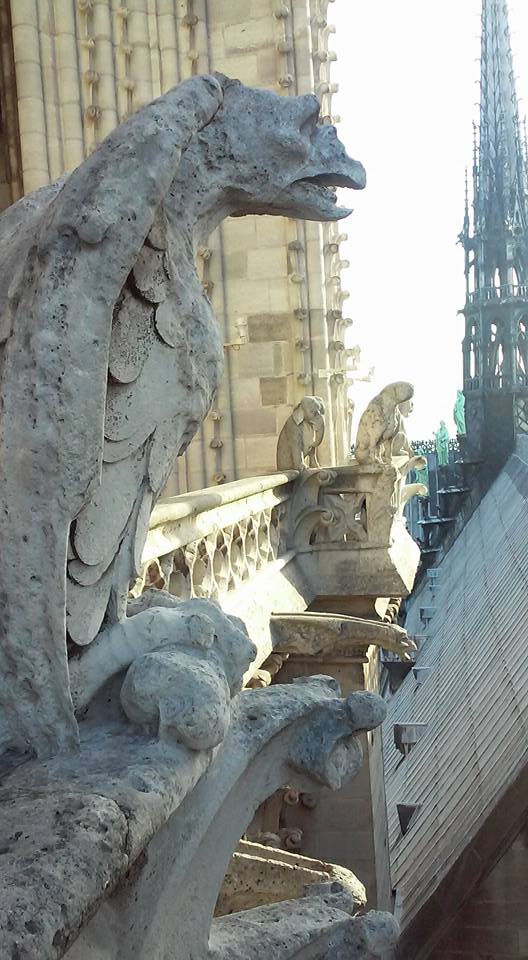 For dinner we went to a seafood restaurant off the beaten path called Pedra Alta Bercy. Just look at all that food.
There are alot more things I wish I could have done, but two weeks just isn't enough time to visit these beautiful cities and if anyone tells you don't visit Europe during the winter don't listen to them. It didn't feel that cold to me and I live in the south. It's also Christmas time so you'll have beautiful holiday lights, ice skating, Christmas markets and many activities to enjoy.