Where to Play
USS MIDWAY AND UNCONDITIONAL SURRENDER STATUE
I've always seen the iconic V-J Day photo and fell in love with it, so when I heard there was a statue resembling it in San Diego I had to go check it out. The statue stands near the USS Midway which was the leading ship of it's class and commissioned 2 weeks after WWII. Entry for the ship is free for all military and regular pricing is $20, but you can get your tickets for as low as $16 on www.reservesandiego.com. Give yourself about 2-3 hours to tour the entire ship.
CHILDRENS POOL BEACH IN LA JOLLA
La Jolla is the Beverly Hills of San Diego. You might even pass Dr. Seuss' home on your way there. The Children's Pool was a place parent's taught their kids how to swim since it is soo shallow, but soon after the sea lions took over. There are also tide pools nearby where you can check out some beautiful sea-creatures.
BELMONT PARK - MISSION BEACH
Belmont Park is a great place to play while on vacation and free to enter. They have tickets you can purchase for rides as well as food and snacks. You can enjoy everything from ziplining, rock-climbing to go carts. If you are visiting during the summer months check out Sea World's fireworks schedule. I happened to catch a nice view of the show behind the park.
BALBOA PARK
This park is magnificent and I fell in love with the architecture. It contains museums, several theaters, and the world-famous San Diego Zoo. There are also many recreational facilities and several gift shops and restaurants within the boundaries of the park.
Sunset Cliffs
We took an Uber to Sunset Cliffs not sure how it was going to work out but it did. I still think it's best to rent a car for a day as you would have to be at a specific location for your driver to find you and there is no restaurant or shops nearby for you to walk to. You are lucky if you get to see the sun actually set. Our view was blocked by marine clouds but overall it was a wonderful experience. We walked down the stairway where you can climb over a few rocks, but be careful. It's slippery.
Where to Eat
Sushi Freak - Sushiritto heaven. There are two locations. One on Linda Vista Ave and the other in East Village.
The Taco Stand - This restaurant is definitely worth the drive to La Jolla. It hasn't been opened for a year and the place is already raving with reviews.
The Donut Bar - I was looking forward to trying their strawberry donut, but unfortunately they were sold out. I never had a donut with bacon on it before so I decided why not. There are 3 beverages you can choose from; water, coffee or beer. I chose beer...duh!
Rockin Baja - There are two locations Old Town and Gaslamp Tavern. These locations are tourist traps than anything else, but if you're a fan of Pokemon Go you will find alot there. ;) Rockin Baja has live music and while you are waiting for your food they have a buffet where you can indulge yourself in unlimited chips and a variety of salsa. The mango was my favorite.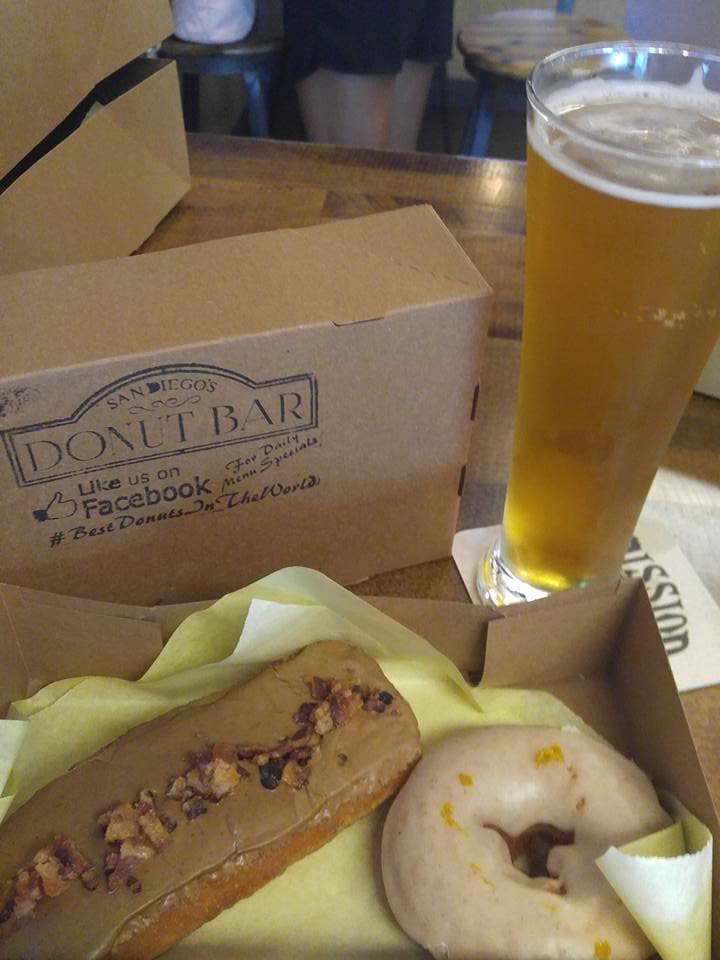 Visit Mexico
We decided to take a spontaneous trip to Mexico after we found it it was only a 25 minute drive. Once you get close enough to the border you can walk or continue driving through. We chose to walk and paid $10 for all day parking. Make sure you have your passport handy. I know many people say you don't need a passport to go to Mexico, but people use your brain. If they need a passport or other legal documents to come to the US we need one to visit their country as well. Security will ask you for one.
Once we got through security we took a taxi to Tijuana that cost $6, bought some souvenirs and enjoyed dollar coronas and tacos of course. Our driver was very nice. Since none of us had service on our phones he stopped at a shop where he knew the owners and told them to call him when we were ready for a ride back. When you get back to the border, if you walked, your line will definitely be longer than coming in since you are also in line with locals. We met a woman who lives in Mexico and said she goes through the line 5 days a week for work and it can be as long as 3 hours. This was a Friday afternoon and we were only in line for an hour which felt like forever. If you do plan on taking a trip to Mexico from California I used the BWT app, it helps with keeping you informed on how long passenger and pedestrian lines are for different border locations.
Lyft (code: TERRI506767) and Uber (code: 1YYHC) are always available but you can also purchase a Compass day pass for $7 (including card). It allows you to ride on the trolley and bus. At one point I ended up getting a Taxi since it was a short drive back to my hotel. I remember my driver saying he had a bad 4th of July because a lot of people were taking Uber and Lyft so I do ask if you're only a skip away from your destination please consider taking a Taxi if you see one. These people have families to feed as well. San Diego is such a beautiful city. No humidity and cool breeze and you can't forget the delicious and authentic tacos and burritos. HAPPY TRAVELS!