Sin City! Where the air feels like you've just opened an oven heating up at 400F. Where people come to celebrate a new chapter in their life, most known to be a marriage proposal or visiting to elope. Where you can catch a show of your favorite musician or showgirl. Vegas is a city in the middle of the desert where you'll see a fluctuation of guys and gals trips to get away from reality for a while and if you're lucky you may run into your favorite reality celeb. Whatever the reason for your visit you are sure to have a good story to tell at the end of it all.
When I decided to visit Las Vegas I didn't care to do much of the cliche except go to a pool party. Labor day weekend is one of the biggest weekends for Vegas. You have nonstop day and evening pool parties which includes some of the top ten DJ's like Steve Aoki, Zedd, Tiesto and KASKADE. Planning out which event you want to attend before you visit is always a good idea as prices tend to increase the longer you wait, but if you do decide to wait last minute at every corner, in front of every hotel there is someone advertising events in the city with a device in hand, ready to take down your info to put you on their list.
There is soo much to do outside of Vegas. Up until the end of October 2018 there is an art display in the middle of the desert about 30 minutes south of Vegas. Also if you are interested in 4 wheeling, helicopter rides or taking a whole days trip to the Grand Canyon it isn't hard to find discounted vendors on the strip, but I highly recommend visiting Groupon first. After visiting the 7 Magic Mountains we headed to the Valley of Fire State Park on the other side of Vegas which is an hour and a half drive between one another. The entrance fee is $10 per car. My cousin and I wanted to go hiking to see the fire waves, but the ranger did not recommend it as it felt we were in Satan's spawn so instead we took a relaxing drive through the park and enjoyed the scenery.
I travel for the FOOD! Of course I had to check Buzzfeed and Thrillest to see where I could stuff my face, but with a limited amount of time, I decided to keep my foodie list on the strip.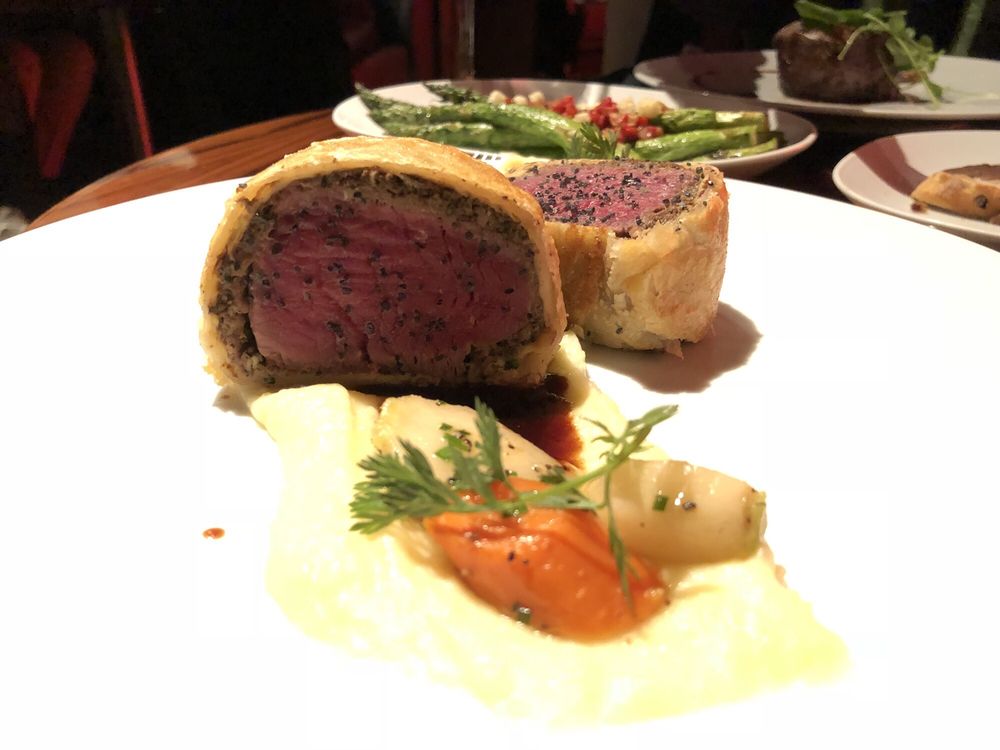 The best nachos I've ever had. Trash can nachos from Guy Fieri's Kitchen & Bar. Topped with a sweet and smokey flavor of pork and red onions pickled to perfection. All the toppings are perfectly proportioned to where every bite that's taken has a heavenly aroma of flavors and I love the way it's served.
Gordon Ramsey Steak located in the Paris hotel is fairly decent. As you enter, the concept is pretty cool yet kinda cheesy. Since it's located in the 'Paris' hotel you enter the restaurant through a tunnel that can otherwise be known as the Eurostar that gets you from Paris to London. You are served an assortment of bread and cheese pre-meal. I did not fancy any of it. The steaks to my cousin and I satisfaction was mediocre, but the drinks were worthwhile. I certainly enjoyed my pureed mashed potatoes as that is how I like it.
Pin up Pizza located outside the Planet Hollywood Casino serves the largest slice of pizza on the strip. Their pies measure 30in across and uses 4lbs of dough, leaving each slice to measure 15in long by 6in wide.
Mon Ami Gabi restaurant is located in the Paris Hotel. Here you will indulge in fine French cuisine as you dine on the patio with a spectacular view of the Bellagio water show.
At La Creperie you will not be disappointed. You have your choice of sweet or savory crepes. I suggest the roasted chicken crepe, stuffed dried tomatoes and asparagus and topped with shaved parmesan and pesto basil. It's like heaven to your palate.